Rent a car without a driver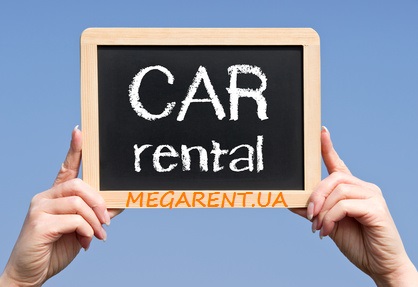 Car rental can be a variety of reasons, for example, you need a whole day to travel on business affairs, to hold meetings, to draw in different instances some documents, take their children to school or kindergarten, do not want to wait for a taxi or on the weekend decided to hold a family an unforgettable holiday in the nature, the sea, in a suburban complex, near the pond, to go to another town to visit relatives - then rent a car without a driver car rental from MEGARENT exactly what you were looking for!
Rent a car without a driver is done on a contract basis, but for a long time to fill out the necessary documents do not have
The benefits and features of our service car rental without a driver.
The obvious fact that the rent Car without a driver in Kiev and Ukraine - it`s convenient , comfortable and inexpensive. But no less – responsibly. You must realize that driving a car – It is responsible for the car itself, other road users, pedestrians and people who are with you in the cabin. Therefore, observe the rules of the road, be careful and attentive. Rent a car without a driver makes you a full participant in traffic, full account is your responsibility.
With his hand, we are ready to guarantee serviceability of cars at the moment issuing! All vehicles undergo regular technical inspection, replacement of spare parts, tires are always in season and in good condition (not bald, without bumps), the appearance of cars as you will be pleased with, in the salons of cars smoke-free, so no foreign odors you feel!
All vehicles are insured under a contract of compulsory insurance (MTPL) and voluntary insurance (CASCO). Therefore, at the time of use by rental car of your liability is limited to the size of the collateral (if you meet all of the conditions of contract), the amount of which corresponds to the vehicle class (actually, the sum size of the franchise for the voluntary insurance contract).
Using the services of car rental Megarent, you get a lot of benefits, including: discounts for regular customers, loyalty, patience, and integrity of employees!
Main the direction and strategy of our service.
Depending on the purpose of your trip, we offer our customers a wide range of vehicles of different types and different brands, the machine is always the latest. Rent a car in Kiev, should be carried out with the utmost care for the client, as well as with full professional responsibility. Therefore, here you can order for your personal driving:
- small passenger cars for urban travel on business matters;
- cars business and premium class, for comfortable movement on our « motorways »;
- SUVs for trips to the countryside or in topographically difficult terrain;
- mini-buses for the transportation of small businesses during the holidays.
Also in our car rental you can order additional services that will make your trip more pleasant, safe and comfortable, namely:
- GPS navigator
- child seat
- 3g WI-FI router
(tariffs on the equipment you can find in our price list in) and you can also enter an additional driver with the right to manage – absolutely FREE!
Car rental without a driver in Kiev and in other regions of Ukraine, our company provides for over 8 years, during which we were able to create a team of professionals, to pick up a modern and reliable fleet, as well as verified price policy.
On the latter point, the car rental in Kiev cheap – to many it may seem unrealistic to … But rest assured that our car rental offers really very favorable conditions to each client and guarantees the quality of the services provided and a car!
Rent a car in Kiev car MEGARENT – always advantageous and comfortable!